Drain Equipment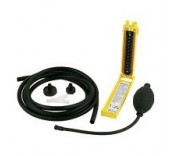 Drain Equipment | Manchester Safety Services
Helping overcome one of the biggest problems faced by construction teams and worksites; Manchester Safety Services' drain equipment range can help ensure all excess water is comprehensively drained efficiently and sufficiently. Always beneficial in the rainy UK, the high quality drain equipment can ensure work is completely in a smooth and timely fashion.
The drain equipment range from Manchester Safety Services includes a great selection of drain clearing items and drain testing products – helping ensure drainage is never an issue throughout all worksite operations. The testing products can help ensure that all water management and drainage tasks are completed to the highest levels of professionalism.
All of the products in Manchester Safety Services' drain equipment range have been sourced from trusted manufacturers – ensuring they are of the highest standards of build and operation. If you require any additional assistance with any product from Manchester Safety Service, please contact our dedicated team on 01706 364943.