Hand Tools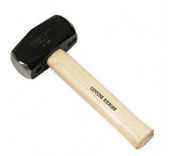 Hand Tools | Manchester Safety Services
A hand tool is any tool that is not a power tool; therefore, one powered by hand (manual labour) rather than by an engine (automated labour). Hand tools are generally considered less dangerous than power tools. Manchester Safety stocks an extensive range of hand tools, including:
• Hammers - Our hammers are handheld tools used to deliver impact to an object. They vary in shape, structure, and weight. We have claw, lump, brick and sledge hammers, as well as felling axes and handles for hammers.
• Floats & trowels - Trowels can be used for digging, smoothing, and are particularly suitable for laying cement whilst bricklaying. There are also steel and plastic floats in this sub-category, which can be used to smooth a surface and make it flat.
• Knives - Knives are cutting tools, with a cutting edge. We have trimming knives (otherwise known as Stanley knives) and compatible blade replacements.
• Saws - A saw is a tool consisting of a hard blade with a handle and toothed edge. We have general purposes saws most suitable for wood (but they can also be used for many other different hard materials), and hacksaws for metals.
• Chisels - Chisels have a sharp cutting end, with the other end being hit by a hammer to hit this tool through textiles. We have chisels of different lengths, especially suited for chiseling through different materials (from floorboards to bricks).
• Crowbars & wrecking bars - We have crowbars, wrecking bars and Jimmy bars of various sizes, which are primarily used to remove nails, or force apart two objects.
• Pliers & wrenches - Various tools to hold objects firmly in place (to tighten bolts, reach through narrow crevices, etc.), as well as nippers, which are primarily used to cut wires effectively.
• Screwdrivers - A screwdriver is a tool designed to tighten and loosen screws. Manchester Safety has screwdrivers to use with both flat and pozi tip screws, as well as screwdriver sets (ranging from 6 piece to 42 piece sets).