Barrier Systems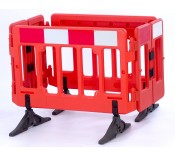 Barrier Systems | Manchester Safety Services
At Manchester Safety Services, we stock a wide range of barrier system products, designed for a wide range of professional jobs. All of our barrier systems are designed specifically to unobtrusively maintain the safety of the professional workforce and the general public and ensure that the latter group do not enter in unauthorised areas.
Whether you are looking to control a crowd outside a public gathering or need to block off stretches of road; Manchester Safety Services will be to help you with any barrier system needs. All of our barrier systems are simple and efficient to transport and erect. This makes it possible to transport numerous fixtures easily and speedily erect a full and sufficient structure.
Our temporary road barriers are strong and durable, ensuring they retain integrity in all conditions. The strong footers help the structure keep its shape and position in even more extreme weather conditions. Using the universally recognised colour scheme, our road barriers are unmistakable and require little introduction on the road.
Additionally, we stock manhole barriers in a number of different shapes, helping to keep the public safe. For larger construction jobs, we stock temporary site fencing helping to maintain the safety of the general public. We stock the fencing panels, rubber block feet and fencing couplers allowing you to customise the shape and size of the fences to the needs of the site and the workforce.
Please contact our dedicated sales team on 01706 264943 to discover how Manchester Safety Services' barrier systems could benefit you and the jobsite.