Concrete Curing Tank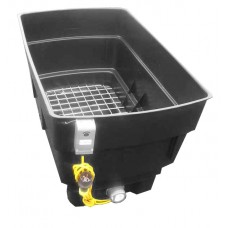 Product Name:
Concrete Curing Tank
Product Model:
LCMT
Price: £395.00 (Ex VAT)
£474.00 (Inc VAT)
Curing Tank for up to 30x150mm Concrete Cubes, made from Polyethylene and measuring 990x686x635mm overall.
It is fitted with a 220 volt 3kW Heater but also works on 110v (heating taking a little longer), fitted with mechanical thermostat and a galvanised mesh lower rack.
The thermostat is factory set to control the Tank at 20C.
It is ideal for site use where an economical solution is required.